Himel, Ärdä, Luft und miär




«Himel, Ärdä, Luft und miär» is a phrase in the Obwalden dialect to express astonishment. It is used less and less often.





Introduction What does it mean to grow up somewhere? And this supposed ceiling we grow up against – is it the same for everyone?

In Obwalden the clouds never touch the ground for there are mountains, always. Life is vertical, here especially. Even the village of Engelberg (a piece of Obwalden somewhere else) is closed in. Despite all these walls, the mountain ridges never did and definetely do not today eliminate change. As it happens so often with borders they might have made change just a bit more visible. The surrounding crests are neither sublime nor particularly dramatic. It's more like their contours seem to be characters of quite a shaky handwriting. In it one can read stories of loss just as easily as such of strange incidents. To me, the place I grew up in is a liminial place and everyone here is best described by being in between. Perhaps it is true and Obwalden could be seen best by looking at what it has put in its center – a lake ("Meer") instead of somebody ("Miär").

Einleitung Was bedeutet es, irgendwo aufzuwachsen? Dieser Himmel, dem wir entgegenwachsen – ist das derselbe für Alle?

In Obwalden berühren die Wolken den Boden jedenfalls nie, weil immer irgendwo Berge sind. Das Leben ist vertikal, hier besonders. Sogar Engelberg (ein Stück Obwalden ausserhalb davon) ist umgeben. Trotz diesem Mauerwerk, die Berge halten die Zeit nicht auf, haben sie nie. Wie so oft mit Grenzen, machen sie unterschiedliche Geschwindigkeiten vielleicht einfach etwas sichtbarer. Die Bergspitzen rund um den Sarnersee sind weder erhaben noch hoch. Ihre Konturen sehen eher aus, wie Buchstaben einer zittrigen Handschrift. Von Verlusten könnte man daraus erzählen, würde aber über beachtliche Zufälle stolpern. Der Ort an dem ich aufgewachsen bin ist ein Zwischenraum und die Menschen hier sind im dazwischen-sein gut beschrieben. Vielleicht stimmt, was Kari uns einmal im Huwel erzählt hat und man muss nur sehen, was sich der Himmel hier in der Mitte gelassen hat: ein Meer, kein Miär.
"o wee
kä pfarer
kä fäldmuiser mee
d muetter gottes im museum
drfir alles w w w dot com
häilige bimbam"

–Hanspeter Müller-Drossaart
It is said, that the 15h century hermit Niklaus von Flüe used a stone as a pillow. With his Ranft retreat becoming a place of almost obligatory pilgrimage, the stone within the hermitage keeps disappearing. It is being replaced regularly with a stone from the nearby river Melchaa.



Alls wo hätt chennä passierä, minus alls wo passierd. Dr scheenscht Plural wos gid: Zuekümft.































The abandoned Hotel Reinhard in Melchsee-Frutt.

Since the natural populations are no longer self-sustaining, river trouts are being fostered in the valley, carried up into the mountain lakes and taken down as hauls again.
A cat is mousing in Kägiswil.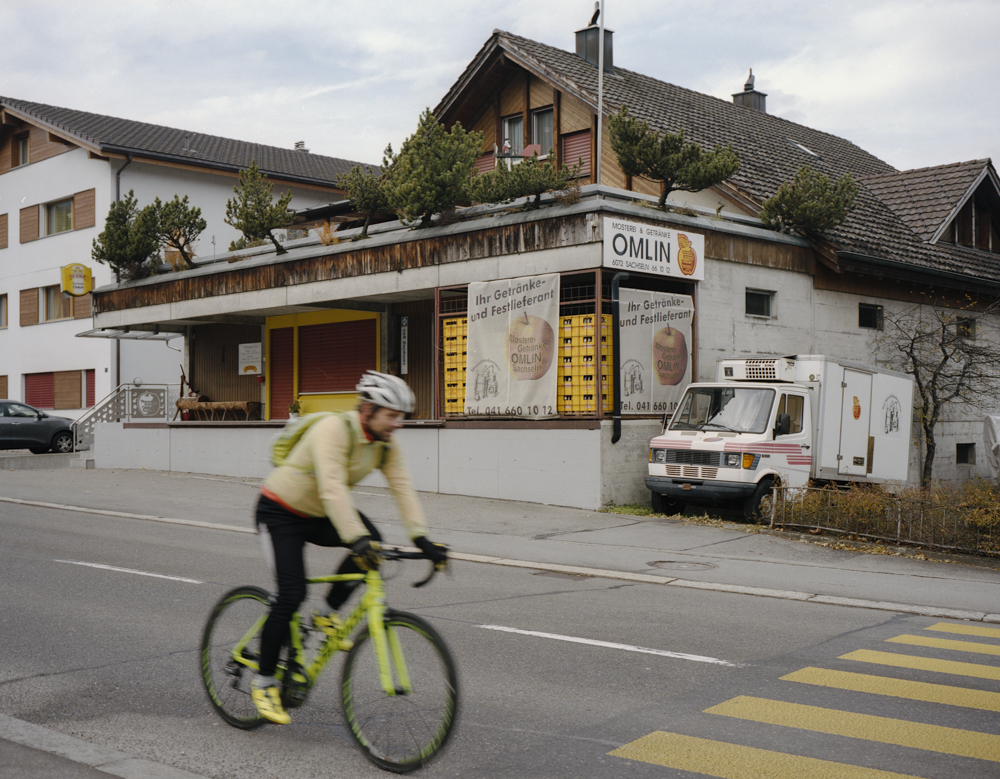 As with many customs today to some the practise of "Trinkeln" might appear only as a citation of something lost long ago. Yet it could be this vagueness that will make this rite compatible with changing rural identity.
A few of the many building profiles in Alpnach.

A local girl looking into the camera. A painting of the saint Brother Klaus looking onto the mainroad in Sachseln.
The train is the favoured means of transportation for the many tourists that are travelling through the valley. A farmer has placed pink silage bales within sight of the railroad to raise awareness for cancer research.

When I met Seline, her grandmother was half-jokingly querying her relationship with a man from Obwalden. The legend of the Obwalden betrayal leading to the 'days of infamy' in Nidwalden in 1798 is still present.












Summer in the mountains.

Altough "Tristen" are a reliable way to dry grass, only two groups of people are still making them in Obwalden. There are precise instructions on how to build them in order to receive subsidies. These three are covered with plastic instead of a soil/grass-compound.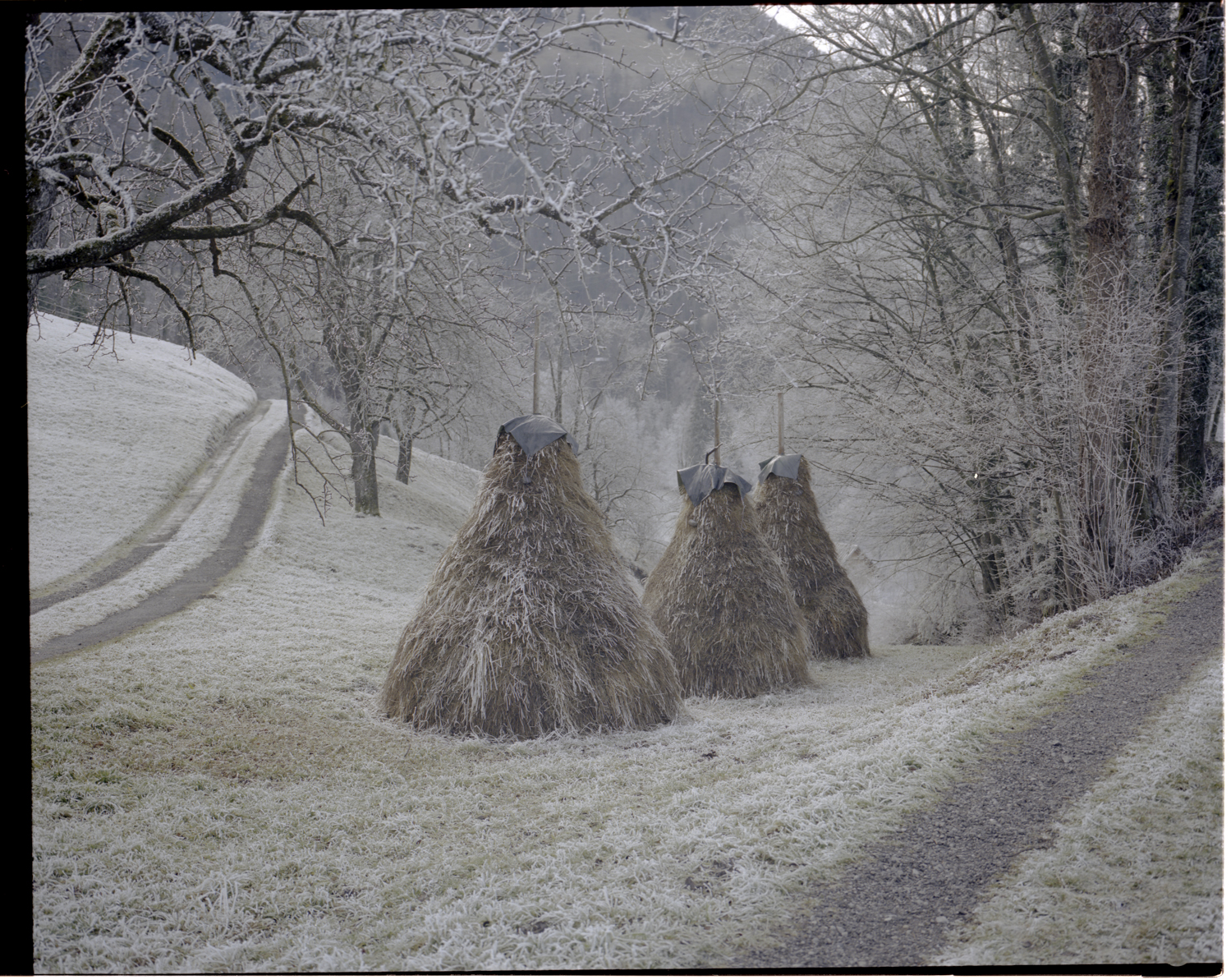 When the local police went looking for a missing mushroomer in 2019 they actually found two corpses in the remote Grossschlieren valley. The spacial distance of the bodies was reported to be queasily minimal although the deaths were months apart. While the official interpretation identifying the second body as a strayed man who had been living in a nearby asylum centre has been falsified by now, the circumstances remain unclear.

At the exact place, but in the year before this happened, the forest brimmed over with blueberries.